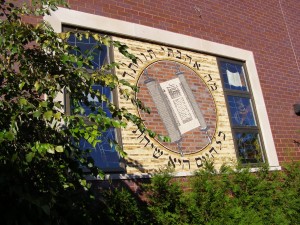 Inwood is a hamlet and census-designated place (CDP) in Nassau County, New York, United States. The population was 9,325 at the 2000 census.
Inwood is included among the Five Towns, an informal grouping of villages and hamlets in Nassau County on the South Shore of western Long Island adjoining the border with Queens County in New York City. Despite the name, none of the communities are towns. In addition to Inwood, the Five Towns is usually said to be composed of the villages of Lawrence and Cedarhurst, the hamlet of Woodmere, and "The Hewletts", which consist of the villages of Hewlett Bay Park, Hewlett Harbor and Hewlett Neck and the hamlet of Hewlett, along with Woodsburgh.[1] The "towns" most commonly included as constituents of the "Five Towns" are all within the Town of Hempstead.
Inwood was first settled c. 1817 and was originally called North West Point, named after its geographic position in relation to the more central part of Far Rockaway, of which it was then a part. Its original settlers were Jamaica Bay fishermen, generally lawless and troublesome to other Rockaway residents. Soon after the American Civil War, the area became known as Westville. The first true road in the area, the Inwood end of Lord Avenue, was built when the neighboring village of Lawrence was developed.
When the first post office in the village was established on February 25, 1889, the name of the village was changed to Inwood; a post office named Westville already existed in New York State. By the time of World War I, a large part of Inwood's population was of Italian and Albanian extraction.
Inwood is home to the famous Inwood Country Club which was the site of the 1921 PGA Championship as well as the 1923 United States Open.