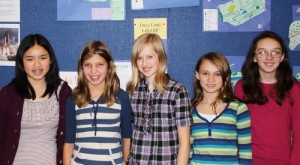 Each student proposal submitted to the competition was read and evaluated by the SSEP PDX Local Review Board. This team was made up of Erik Nilsen (Jackson parent, Lewis & Clark professor, and former NASA employee), Susan Jordan (Director of Grants and Development for Portland Public Schools), Dr. Weislogel (PSU professor and SSEP consultant) and Jennifer Kelley (Jackson teacher and SSEP PDX coordinator). The job of this team was to select the top three experiments! After much discussion and consideration for each proposal the three proposals selected to go to SSEP National Review were:

Mouse Cells in Space

Co-Principal Investigators: Makaila Heifner and Mia Cywinski,
 Grade 6
This experiment looked at the effects of microgravity on embryonic mouse cells. The investigators hoped to insert the cells flown on the shuttle into diabetic mice to see if the cells developed in microgravity had any effect on the diabetes. One of the investigators on this project is diabetic.
Urokinase Protein Crystal Growth in Microgravity


Co-Principal Investigators: Celeste Brown and Josie Smith
, Grade 7
This experiment looked at crystal growth in microgravity. Urokinase was selected because of its association with cancer research. The investigators are friends with a girl who has cancer.
Early Mammalian Development in Microgravity


Principal Investigator: Bethany Woods
, Grade 8
This experiment looked at the development of embryonic mouse cells in microgravity. The researcher planned to study the early development of a mouse in microgravity as compared to on earth as humans look to longer space flights and human reproduction in space.
Congratulations to the JMS Finalists!