I am currently in Kissimmee, Florida.  I drove down here earlier this past week to attend the final launch of the space shuttle Atlantis.  Two SSEP students, Amalia Hosken (my daughter!) and Heba Abuzer, rode down with me.  Two more SSEP students met us down here, along with their families…
I knew this experience would be memorable, but I had no idea how quickly the profundity of the situation would settle within our young students.  They did the work involved with SSEP and they did it with smiles on their faces.  In the beginning, I don't think they truly grasped the magnitude of the experience because of their age.  That's not a bad thing, by the way…
On Friday, the four SSEP students met up for the first time in Florida.  They wiped the sleep out of their eyes as I introduced them to Dr. Barret Caldwell, director of the Indiana Space Grant Consortium.  Without his assistance, we would not have been able to participate in this amazing program.  The girls knew who he was and were very excited to finally meet him.  They had previously sent him thank you cards, which he actually brought with him!!!  It was incredibly evident that his heart was in this project and in getting a piece of Indiana aboard the last ever space shuttle flight.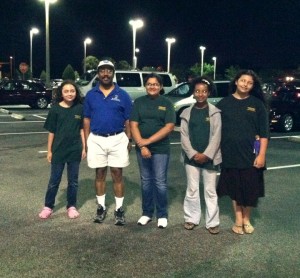 We arrived at KARS park, nearby the Kennedy Space Center, with four hours until launch.   People talked, played frisbee, wandered the facility and rested.  The excitement was palpable.  My crew, however, exhausted from non-stop activity since we left the great state of Indiana a few days earlier, napped in the van.  I attempted to sleep, but it was no use…due to cloud cover and potential storms, there was only a 30% chance of the launch actually happening that day and I was a nervous wreck.  I must have checked the news on my phone at least a hundred times in that four hour period.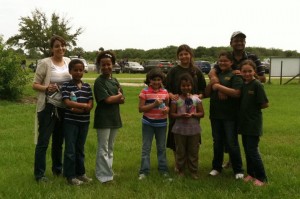 After what seemed like an eternity, the time had arrived.  There was less than half an hour until launch and everything was looking like it was a go.  I woke up the kids and they reunited with our larger group.  We were ready and the countdown began…and, despite their being an initial failure at the T31 checkpoint, Atlantis blasted off.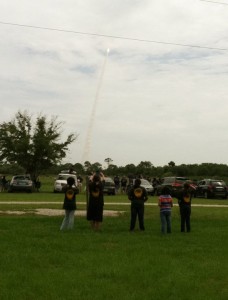 I stood there, silenced by what I was seeing, and the SSEP students were jumping up and down, clapping and shouting and, I can admit it, I teared up.  I walked back into the air conditioned and relatively mosquito-free clubhouse and the students eventually followed.  They talked about how while they thought they'd be a little closer to the launch, it was "so cool" to see her go up.  Then one of the students turned to me, "what project are we going to do next year?"  It's summer and they're anticipating future work! 🙂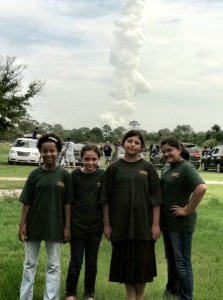 The day after the launch there was a scientific meeting held at the Florida Institute of Technology.  The SSEP communities converged to discuss our experiences and to talk about ways to improve SSEP and get the word out.  Two of Avicenna's SSEP students attended the talk with me.  I didn't attend my first science meeting until I was in my early 20s!  The fact that they had an opportunity like that was impressive.  And, the best part was that it wasn't a typical science meeting/conference in that the attendees were not all (or even mostly) PhD level professionals in the field.  No.  The majority of the attendees were under the age of 18 and the next largest group were the parents of said students.  Teachers, scientists, and project partners were also present.  It was a wonderful mix of minds!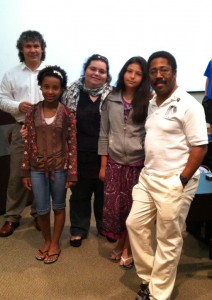 I've been asked several times this week to reflect on our experience with SSEP.  It's difficult for me to be thorough when I'm so utterly exhausted (sleep has not been a priority on this trip!).  The truth is that the biggest feeling I have as a result of this project is hope.  I am proud of our students, no doubt.  I'm happy that our little school has been receiving so much recognition.  I'm excited to see the results of the students' experiment.  In the end, though, I'm feeling hopeful that this project may be the beginning of a change in how this country views science education and, in fact, education as a whole.  The bottom line is that I have seen a change in my students' motivation and depth of engagement.  I have seen them go from being passive learners to aggressively seeking out knowledge to help them in solving a problem at hand.  That's what science is, by the way…
The word science is a derivative from the Latin "scientia" which means "knowledge".  Science as a discipline, however, is the process of seeking out NEW knowledge.  Science should not just be viewed as a subject in school but rather as a way of life, a means of problem-solving, a path to getting to wherever it is we are trying to go.  While at the meeting yesterday, several people brought up the fact that too many educators are focusing on text books and what I call the "teacher's edition" answers to problems.  We give kids text books, ask them to memorize vocabulary, toss a test at them and then wonder why it is none of our kids are passionate about learning.
So, I'm hopeful.  SSEP is a STEM initiative that engages students in a much different way than our country's current educational system is accustomed.  I walked into a classroom and empowered students by telling them that we're going to embark on a journey where they get to choose a problem that they want to solve and they get to determine a way to solve it.  I did not give them a step by step guide to follow and when we hit bumps in the road, the students themselves were responsible for navigating around them.  Ultimately this resulted in increased knowledge in several key scientific areas (biology, chemistry, physics) and in other areas such as mathematics and English (due to communication requirements).  My students range in age from 9 to 13 and they were operating on a level that approached and in some ways exceeded introductory college courses and instead of complaining about the work, they kept asking more questions and looking for more answers.  Excitement and motivation were fostered through empowering them.  I showed them that I believed in them.
I have never believed in limits.  While my parents may have disagreed when I was a child, I consider my fearless view a virtue that I want to imbue in today's generation of students.  My students now understand and, I hope, someday will internalize my belief that the only limits that exist are the ones we place on ourselves.  And, since they've managed to put their intellectual property out into orbit prior to reaching the ripe old age of 14, I hope that they don't ever doubt themselves enough to place limits on what they are capable of doing.
I hope.
(Student reflections will be coming in the next week or two.)