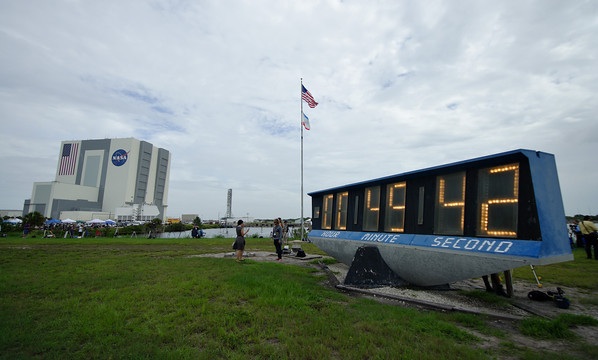 The United States National Aeronautics and Space Administation has extended an invitation to all SSEP Student Researchers, their teachers, and their families attending the launch of the SpaceX Falcon 9 rocket on May 7, 2012, to watch the launch from the Press Site at Kennedy Space Center. (Yes that's the location of the famous countdown clock.) The Press Site is significantly closer to the pad than KARS Park.
From NASA—
The Press Site is located in the Launch Complex 39 Area, just south of the Vehicle Assembly Building (VAB) and Launch Control Center (LCC). It is adjacent to the Barge Terminal Facility, commonly known as the Turn Basin.
The Press Site is located just 4 miles from the SpaceX launch site at Space Launch Complex 40 at the Cape Canaveral Air Force Station. By comparison, KARS Park is over 12 miles from the pad.
SSEP attendees viewing the launch will be in the midst of the press corps from news organizations from across planet Earth covering this historic event.
NASA staff would also like a number of SSEP student researchers to join them in the TV studio on site to demonstrate the mini-lab hardware and talk about their experiments on NASA TV. (You might have noticed that we added a NASA TV widget in the right column of this website.)
NOTES TO ALL ATTENDEES:
1. PLANS HAVE CHANGED! WE MUST NOW BE AT THE PRESS SITE BY 6:30 am, WITH INTERVIEWS FOR NASA TV STARTING AT 7:00 am.  WE HAVE UPDATED THE LAUNCH VIEWING PLANS PAGE AS OF 9:00 PM EDT APRIL 27, TO REFLECT ALL THESE CHANGES.
2. THE NATIONAL CENTER FOR EARTH AND SPACE SCIENCE EDUCATION (NCESSE) MUST HAVE, FOR EACH SSEP DELEGATION, THE FINAL NUMBER OF ATTENDEES BY 8:00 PM EDT MONDAY APRIL 30.