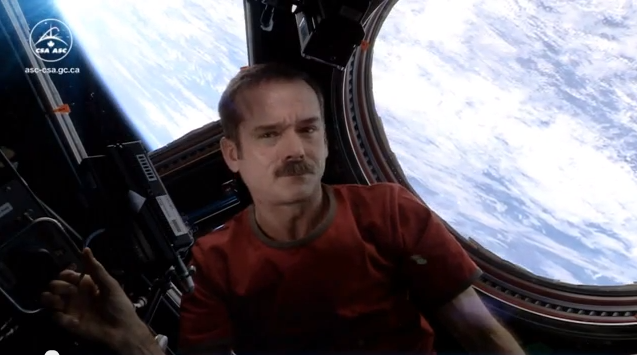 In honor of the Soyuz MS-15 return to Earth this Friday with astronauts Andrew Morgan (USA), Jessica Meir (USA) and Oleg Skripochka (Russia), we post the following video. Our hope is this event will excite the current SSEP Student Researchers and teachers and remind former SSEP Student Researchers and teachers of their SSEP experience.
We have also posted below the April 13, 2020, NASA Media Advisory on Soyuz MS-15 undocking and de-orbit, which provides times of NASA TV live coverage of milestone events. Undocking is scheduled for April 16, 9:53 pm EDT, and landing in Kazakhstan at 1:17 am EDT, Friday April 17.
You can watch live coverage on NASA TV right here at the SSEP website. See NASA TV portal below. 
Just before his return to Earth on Soyuz 33-S, on May 13, 2013, Expedition 35 International Space Station Commander and Canadian astronaut Chris Hadfield – the first Canadian to walk in space – released this video. We'd also like to give a shout-out to our 2 SSEP Mission 14 Canadian communities, Edmonton, Alberta, and Halifax, Nova Scotia.
We invite you all to lower the lights and feel that you truly are part of this adventure. You might also consider having a virtual class discussion about the emotional content of this song, who is singing it (here is Chris' bio at the Canadian Space Agency), where he is singing it, and what it must feel like to leave Low Earth Orbit and return to Earth.
Human exploration? It is a wondrously emotional endeavor, and we express that emotion in myriad ways – through art, through prose and poetry, through story-telling, and through music. And all this goes hand-in-hand with science, and more generally STEM – really. The human condition is an interdisciplinary tapestry – something to be celebrated in all our classrooms.
We shall not cease from Exploration.
And the end of all our exploring
will be to arrive where we started
and know the place for the first time.
-T.S. Eliot
WATCH SOYUZ RETURN TO EARTH – LIVE ON THIS NASA TV PORTAL  


April 13, 2020
MEDIA ADVISORY M20-046
NASA TV to Air Landing of NASA Astronauts Meir, Morgan and Crewmate Skripochka
NASA astronaut Andrew Morgan, who has spent nine months living and working on the International Space Station, will join fellow NASA astronaut Jessica Meir and Oleg Skripochka of the Russian space agency Roscosmos for a scheduled return to Earth on Friday, April 17.
Live coverage of their Soyuz MS-15 spacecraft's undocking and station departure will begin at 6 p.m. EDT Thursday, April 16, on NASA Television and the agency's website. Coverage of the deorbit burn and landing will begin at 12 a.m. Friday, April 17.
Soyuz and station hatches will be closed at 6:30 p.m. Thursday, April 16, and the trio will undock from the aft port of the station's Zvezda service module at 9:53 p.m. A deorbit burn at 12:22 a.m. Friday, April 17, will put the Soyuz on course for a parachute-assisted landing at 1:17 a.m. (11:17 a.m. Kazakhstan time) on the steppe of Kazakhstan, southeast of the remote town of Dzhezkazgan.
A change of command ceremony, which will see newly arrived astronaut Chris Cassidy of NASA accept station command from Skripochka, will air live at 4:55 p.m. Wednesday, April 15, on NASA TV and the agency's website.
At the time of undocking, Expedition 63 will begin aboard the station, with Cassidy and Roscosmos cosmonauts Anatoly Ivanishin and Ivan Vagner comprising a three-person crew until the planned arrival of NASA's Bob Behnken and Doug Hurley aboard the SpaceX Crew Dragon on the Demo-2 flight test, becoming the first astronauts to launch from American soil to the space station since 2011.
Morgan's 272-day mission began on July 20, 2019, with launch aboard the Soyuz MS-13 spacecraft, along with Luca Parmitano of ESA (European Space Agency) and Alexander Skvortsov of Roscosmos. His flight spanned Expeditions 60-62, a total of 4,352 Earth orbits and a journey of 115.3 million miles. During his first spaceflight, he contributed to hundreds of experiments in biology, Earth science, human research, physical sciences and technology development. He also conducted seven spacewalks, totaling 45 hours and 48 minutes, four of which were to improve and extend the life of the station's Alpha Magnetic Spectrometer as it looks for evidence of dark matter in the universe.
Meir and Skripochka, who launched on the Soyuz MS-15 spacecraft on Sept. 25, 2019, will land with Morgan after 205 days in space, 3,280 orbits of Earth and a trip of 86.9 million miles. During her first spaceflight, Meir conducted the first three all-woman spacewalks with crewmate Christina Koch of NASA, totaling 21 hours and 44 minutes. Skripochka is completing his third spaceflight for a cumulative 536 days in orbit.
After landing, the crew will return by Russian helicopters to the recovery staging city in Baikonur, Kazakhstan, where they will split up. Morgan and Meir will board a NASA plane located in the adjacent city of Kyzlorda, Kazakhstan, for a flight back to Houston. Skripochka will board a Gagarin Cosmonaut Training Center aircraft in Baikonur to return to his home in Star City, Russia.
Full NASA TV coverage is as follows (all times EDT):
Wednesday, April 15:
4:55 p.m.: Space station change of command ceremony, during which Chris Cassidy will accept command from crewmate Oleg Skripochka of Roscosmos.
Thursday, April 16:
6 p.m.: Farewell and Soyuz hatch closure coverage (hatch closure at 6:30 p.m.)
9:30 p.m.: Soyuz undocking coverage (undocking scheduled for 9:53 p.m.)
Friday, April 17:
12 a.m.: Soyuz deorbit burn and landing coverage (deorbit burn at 12:22 a.m. and landing at 1:17 a.m.)
-end-
---
The Student Spaceflight Experiments Program (SSEP) is a program of the National Center for Earth and Space Science Education (NCESSE) in the U.S., and the Arthur C. Clarke Institute for Space Education internationally. It is enabled through a strategic partnership with DreamUp PBC and Nanoracks LLC, working with NASA under a Space Act Agreement as part of the utilization of the International Space Station as a National Laboratory. SSEP is the first pre-college STEM education program that is both a U.S. national initiative and implemented as an on-orbit commercial space venture.
The Smithsonian National Air and Space Museum, the International Space Station U.S. National Laboratory, and Subaru of America, Inc., are U.S. National Partners on the Student Spaceflight Experiments Program. Magellan Aerospace is a Canadian National Partner on the Student Spaceflight Experiments Program.